Please scroll down the page to see our season schedule. Please read carefully to avoid disappointment. We cannot open for people outside of posted hours. Sorry.
COST TO VISIT THE FARM
$5.00/Person 5 Years and Up (Our rates will increase on July 1st 2016:  Adults $10, Youth (under 19) $5, Seniors (65+) $5, Children under 5 free)

We gratefully accept cash or check, unfortunately, we do not accept debit or credit cards at this time. We appreciate your support! Your Admission keep our farm staffed and running smoothly.
MAY: OPEN EVERY DAY IN MAY,
Every day from 10 a.m. to 2 p.m., including the weekends and the holidays.
June: Open EVERY DAY in June, including the weekends and the holidays, from 10 a.m. to 2 p.m.
July (Our rates will increase on July 1st 2016:  Adults $10, Youth (under 19) $5, Seniors (65+) $5, Children under 5 free): Open EVERY DAY in July, including the weekends and the holidays, from 9 a.m. to 2 p.m. and EVERY EVENING, from 6 p.m. to 8 p.m. The evening session is a great time to see the animals when it's cooler and less busy. We also open an hour earlier than usual in July and August so that people have another opportunity to beat the heat and avoid the big crowds.
Hours Of Operation Continued:
August: Same as July.
September: EVERY DAY, including the weekends and the holidays, from 10 a.m. to 2 p.m.
October: Open ONLY on the WEEKENDS and the holidays in October. CLOSED during the week.
Our animals insist on their afternoon nap, the staff go home at 2 p.m., and our insurance agent says he won't continue to renew our liability insurance if we don't stick to schedule. Sorry, I know our hours are inconvenient to some people but we have to make the welfare of the animals paramount. By 2 p.m. they've simply had enough. 
WELCOME TO OUR FARM
We have been keeping kangaroos and wallabies for more than 20 years on our farm in Lake Country near Kelowna BC. We do not promote them as house-pets but rather as alternative hobby farm pets to very specific types of situations.We currently have Red Kangaroos (the largest type of kangaroo), Common Wallaroos and Bennett Wallabies (which are mid sized), and Dama Wallabies (one of the smallest wallaby species). Also on site we have emu, peacocks, fancy chickens, goats, parrots, a baby albino wallaby, baby kangaroos and potbellied pigs. We also have capybara, the world's largest rodent, which can weigh more than 150 lbs!
Visitors can enjoy wandering amongst the kangaroos. Our staff are very knowledgeable about kangaroos and wallabies and are on hand to answer any questions you might have about various species, habitat, breeding, diet, housing and general physiology. Your visit can be as educational an experience as you choose to make it.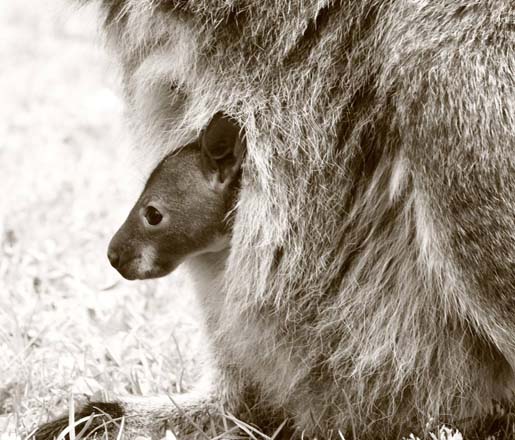 THINGS TO KEEP IN MIND WHEN VISITING THE KANGAROO CREEK FARM
Kangaroo Creek Farm prides itself on being completely non-commercial. You'll notice the difference. There isn't anything for sale. Period. Nothing for the kids to nag you into buying for them, no "exit through the gift shop" because there isn't one, no chips, no pop, no ice cream, no blasting music and no bouncy castle. Even the bottled ice water that's set out for our visitors in the summer only requires a small donation to cover its cost. It may shock you to know that we rely on your admission fee to pay the bills around here. The Admission fee covers our operating costs, which are substantial. Some people are under the assumption that admission fees go to feeding and caring for the animals. They do not. Those are basic costs associated with animal stewardship. In fact, your $5.00 admission goes to covering the thousands of dollars it costs in liability insurance, the changes we have had to make to the property to make it visitor friendly, employee wages and lost wages (my husband and I quit our jobs so that we could open our farm to the public). That's what your admissions are for.
We insist that commercial groups and clubs such as schools, Home-School groups, Boys and Girls Clubs, YWYMCA, daycares and institutions pay $5 per person, even if their clients are under 5 years old. The only exceptions will be children that are too young to walk. Young children that arrive in large groups are particularly challenging to our staff. Visit our Group Visits page for more information. This is important!
We are happy to invite Lake Country retirement homes, schools and daycares to visit us for free as part of our community service but we have to draw the line somewhere. To all the groups, clubs, schools, daycares and organizations that have contributed, Thank You! Please read the The Farm page and The Rules page before you come out for important additional information.