PLEASE CONSIDER READING THIS PAGE BEFORE VISITING.
REMEMBER, KANGAROO CREEK FARM IS A FARM.
Farms present many potential hazards such as animals, fur, dirt, uneven ground, and too many others to list comprehensively. It is not a sterile environment, and animals are not machines. Kangaroo Creek Farm and its operators cannot and will not accept any liability for loss or injury should you choose to visit. Please leave your dog at home and absolutely no smoking. A carelessly discarded cigerette butt can make an animal seriously ill or start a fire. Please be considerate, police your own children and use common sense. Abusive behavior to animals or staff will not be tolerated and we reserve the right to ask anyone to leave at any time. Thank You.
ADMISSION PRICE FOR GUESTS – CASH ONLY
$10 adults, $5 Youth (anyone under 19), $5 seniors (65 and older). Children under 5 free.
We gratefully accept cash, unfortunately, we do not accept debit or credit cards at this time.
We reserve the right to change our fees without notice. The admission fees posted on the website at www.kangaroocreekfarm.com take precedence over any out of date advertising. We appreciate your support! Your Admission keep our farm staffed and running smoothly.
Admission is $10 adults, $5 Youth (anyone under 19), $5 seniors (65 and older).  Children under 5 free. Most people find plenty of things to amuse them here for between 1 to 2 hours (some people stay all day) so that's a pretty good deal. How many venues offer the opportunity to pet or hold a baby kangaroo?
Admission Rates have not changed. Save 50% on adult admission by purchasing a punch card from Olive Us in Lake Country or Vernon between November 1st and March 1st.  We will no longer be offering them for sale at the farm.
We are trying to keep our farm as non-commercial and "un-Disney-fied" as possible. With this in mind we are keeping our admission fee extremely low considering what is on offer. Your admission fee goes toward covering the considerable cost of employee wages (we don't have volunteers), lease-hold costs and improvements, liability insurance, driveway improvements, additional fencing, gates, signage, buildings, porta potties and associated supplies, hand-wash stations, etc and so on. Admissions have nothing to do with the welfare of the animals. You can rest assured that the animals have always been well cared for and always will be, regardless. We only accept cash, punch cards or gift cards at this time.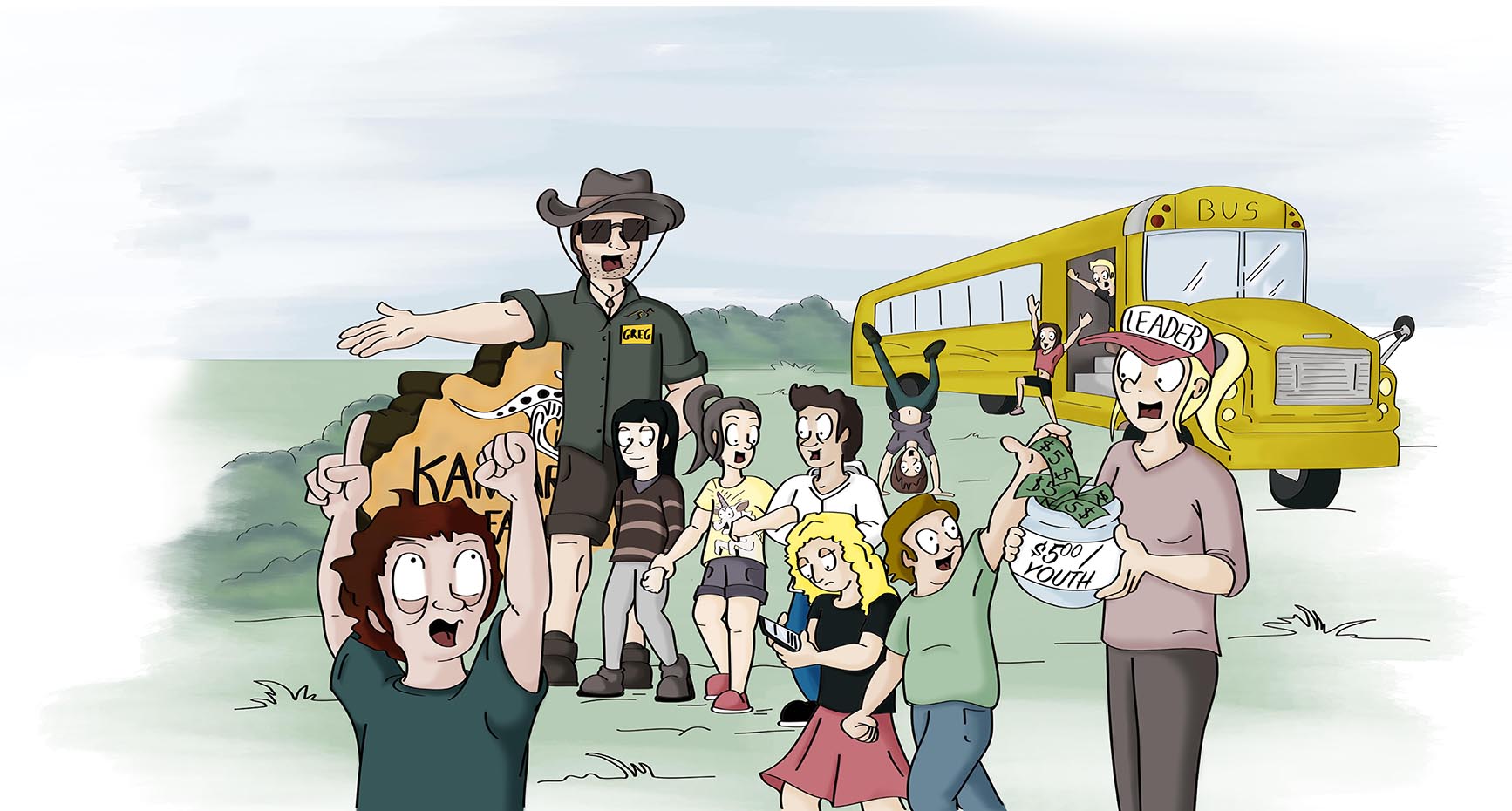 SPECIAL REMINDER TO GROUPS & ORGANIZATIONS
Commercial groups such as schools, daycares, retirement homes, clubs and organizations must book by email at info@kangaroocreekfarm.com. You will receive an email you back very promptly with confirmation and a lot of useful info.  Unfortunately we cannot accept bookings by phone.  To avoid possible disappointment, please book as far in advance as possible as we try to limit how many large commercial groups are allowed to come at the same time. Click here to learn more about group and commercial visits.
PLEASE HEAD TO OUR RULE PAGE TO LEARN THE DO'S & DON'TS
BIRTHDAY PARTIES AT THE KANGAROO FARM
There is public seating available for picnics and self-catered birthday parties. There is no extra charge to hold a birthday party at Kangaroo Creek Farm. Please tidy up after yourself and please don't let your kids pick or trample the flowers.
We are having a bit of a problem with parents socializing on the lawn and sending their kids into the animal pens unaccompanied. This is not acceptable. I shouldn't have to leave my work to search the property for a 2 year olds parents!
Birthday parties need to be cleaned up and gone by closing. There are bathroom facilities behind the house (porta potty). While the ground is a bit uneven in places, most of the property is wheelchair accessible.