PLAN YOUR VISIT TO THE FARM. WE HAVE LOTS TO SEE AND DO!
WHAT WILL I SEE AND DO AT KANGAROO CREEK FARM?
At the farm you will see a variety of exotic and domestic animals and birds in natural surroundings. Learn more about the animals at our farm here. A guide will be available to help you get up close to a joey and give it a gentle pet and get a picture.
Occasionally we will have extra activities such as face painting or visiting reptiles. These are available most of the time during the high season.
Please take a look at our Rules page before you head to Kangaroo Creek Farm for important information. Thank you.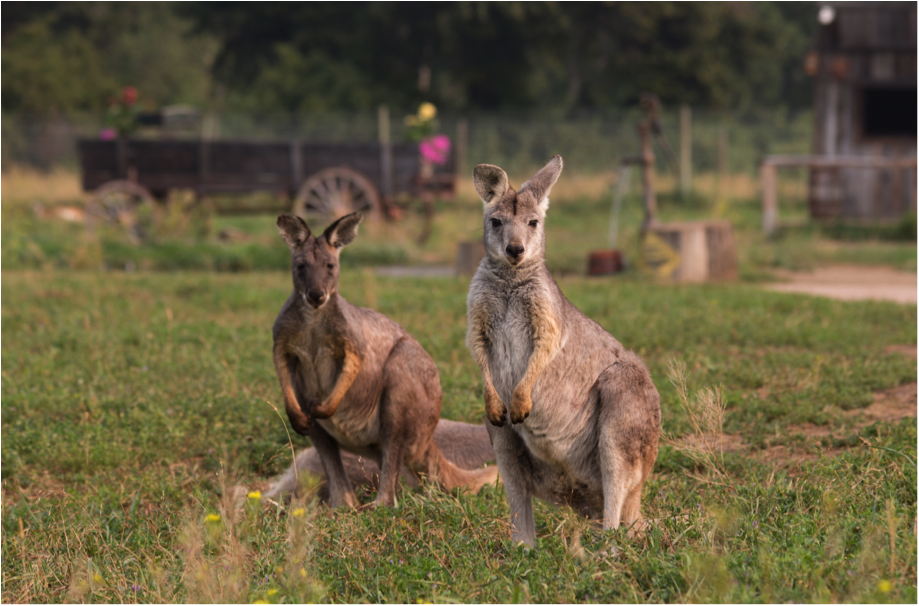 Kangaroos & Wallabies
We have FOUR species of macropods, from the largest, the Red Kangaroo, to one of the smallest, the Dama Wallaby.  We also have Common Wallaroos, and Bennett wallabies.
You can wander amongst them, approach them, pet them and feed them treats that are provided for free by our trained and knowledgeable guides.
They also strike some good poses for pictures! Share your picture with us on Facebook, we love to see how much you love our Kangaroos &  other animals.
VISIT WITH OUR OTHER ANIMALS AND BIRDS
We have more to offer than just Kangaroos and Wallabies. Enjoy visiting with our capybara, goats, parrots, mara, fancy chickens, peacocks, emu, llama, potbellied pigs, and miniature ponies.
PARROTS: Enjoy visiting with our rescue parrots. They love to chat and show off. Our on site guides will help you hold one and take some pictures.
CAPYBARA: Spend some time with the capybara, a semiaquatic mammal and the largest rodent in the world.
SUGAR GLIDER: Sugar gliders are an Australian possum that carries it's young in a pouch. They enjoy sugary foods like sap and nectar and gliding through the air, much like a flying squirrel. Our guides will help you hold and pet one of our sugar gliders.
PEACOCKS: We also have peacocks on the farm. They are beautiful to look at, but please do not chase them. FUN FACT: The term "peacock" is commonly used to refer to birds of both sexes. Technically, only the males are peacocks. Females are peahens, and together, they are called peafowl.